Thornton's Crane Service has proudly established itself as a trusted partner to public works project companies all over West Central Texas, delivering top-notch support for a wide range of project lift requirements.
Whether it's carefully maneuvering massive cement components into place, lowering bridge parts with utmost precision, or deftly handling intricate steel construction lifts, our team has you covered using our 17-ton, 22-ton, 25-ton, 40-ton, and 50-ton units.
Cranes also play a vital role in moving heavy crates and storage containers as well throughout the transportation industry. Keeping these items safe and avoiding any damage is also a top priority for shipping companies. Working with a company specializing in crane services is a great choice for moving a wide range of goods. Our operators can also work with your company in moving these items to ensure everything arrives on time without any damage.
Backed by years of experience and a wealth of knowledge, our highly skilled crane operators are ideally equipped to provide unparalleled assistance for even the most complex public works lift projects. Choose Thornton's Crane Service and elevate your construction endeavors to incredible new heights!
Need answers for your project? Contact us today at 325.267.3612.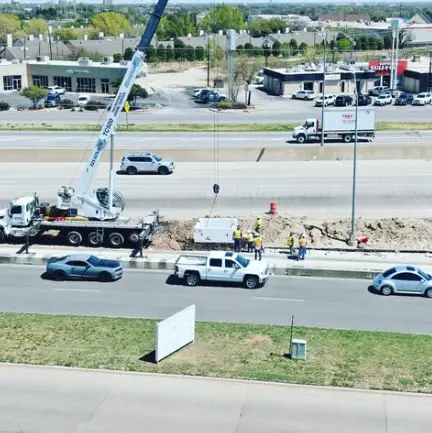 Thornton's Crane Service handles infrastructure projects. We did a cool lift next to the Mall of Abilene. The construction contractor was working on resolving drainage issues along South Clack Street in connection with the Buffalo Gap Road Improvement project. Our operators set a 20,000 pound precast cement drainage box. The guys at WS Construction were really cool and everything was really smooth from start to finish.